Listen to live fire-
ground operations from the Salem County Emergency
Operations Center
Listen Now
91 First Street
Pennsville, New Jersey 08070
Telephone:
856-678-5981
Message Center
Recruitment video
Winter Fire Safety Tips
Home Heating and Fire Prevention Safety Tips
Recent Gallery Entries
Ice rescue training
Pennsville Park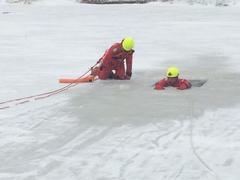 On March 1, 2015 members of Pennsville Fire & Rescue held the practical portion of ice rescue training under the instruction of firefighter Rob Desparrios. Firefighters and EMS personnel assembled at Pennsville park to brave the icy waters. Training included (but not limited to) scene safety, operation of throw bags, safe operations for line tenders, various maneuvering techniques on the ice, edge protection gear and equipment, donning and doffing of dry suits, and various rescue techniques.
Finesse Training
Station 5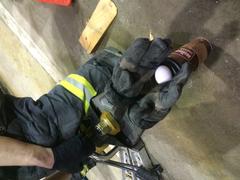 On February 25, 2015 firefighters participated in Hurst finesse training led by Lieutenant Alan Parkell. Members utilized the Hurst tools to maneuver wood and eggs to various locations in the station. This drill was utilized to get members more comfortable with the hydraulic and electric pressure of the tools as well as proper lifting techniques, managing the weight of the tools, and proper body mechanics.
Recent Alarms
Wednesday March, 4 2015 @ 07:52

Saturday February, 28 2015 @ 09:24

Thursday February, 26 2015 @ 12:13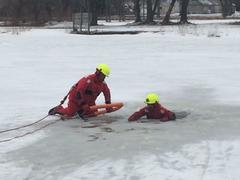 Make a donation to the Pennsville Fire & Rescue Co. #1 & help us to continue helping our community!
Donate Now