Listen to live fire-
ground operations from the Salem County Emergency
Operations Center
Listen Now
91 First Street
Pennsville, New Jersey 08070
Telephone:
856-678-5981
Latest Photo/Stories
2nd annual Washers Tournament
Pennsville VFW Post 1952
2nd annual washers tournament. $30 per team (16 y/o or older) of two or $10 for spectator and concert only entrance. Cash prize and trophy for first, second, and third place teams. Come on out and party, cheer on the teams, eat, drink, dance, and more! Registration 11:00am - 12:00pm at Pennsville VFW Post 1952. 171 S. Broadway Pennsville NJ, 08070. Concert includes bands skeleton crew and Van Halen Nation 6-9 pm $10 at the door.
Firefighter 1 Graduation
Salem Community College
On June 10th, 2014 the Salem County Fire Academy held it's graduation ceremony at the Salem Community College. After nearly 6 months of grueling physical work, intense mental training and testing, and copious amounts of dedication 4 of Pennsville Fire & Rescue members completed the Firefighter 1 course. Graduating members include firefighters Aaron Hefner, Chris Strouse, Jackyln Windfelder, and Justin Dancer. In addition to graduating firefighter Strouse earned the perfect attendance award and firefighter Windfelder exemplified the utmost pride and dedication earning the perfect attendance award, the firefighter health and fitness award, and the PSE&G Instructors choice award (signifying the candidate who demonstrates superior knowledge, skills, dedication, and abilities as determined by the instructors during the course).Pennsville Fire & Rescue is very proud to call you all one of our own. Your hard work is appreciated, keep it up, and congratulations ladies and gentlemen! This is only the beginning. welcome to the best and one of the most rewarding careers in the world!
Recent Gallery Entries
Pennsville VFW Firefighter of the Year
Pennsville VFW
On June 6th, 2014 the Pennsville VFW conducted their annual emergency service awards ceremony. We are pleased and proud to announce that this years firefighter of the year is Battalion Chief Bryan Johnson. Chief Johnson has served with the Glasboro Fire Department for many years before coming to Pennsville Fire & Rescue. He has been with Pennsville for the past 8 years having served previously as Captain before being promoted to Battalion Chief this year. His continued dedication, pride, and honor is highly valued and appreciated here at Pennsville Fire & Rescue. Station 5 is proud of Chief Johnson as well as the other recipients of these awards to include Deepwater Fire Department, Pennsville Police Department, Salem County Sherriff's Office and Pennsville Township Ambulance Department. Thank you all for the continued hard work. Special thank you to the Pennsville VFW for making this possible. Congratulations Battalion Chief Johnson!
Firefighter 1
Gloucester County Fire Academy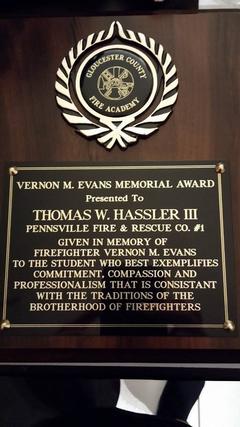 After nearly 4 months of rigorous physical and mental training and testing Thomas Hassler III graduated on December 19th, 2013 from Gloucester County Fire Academy. Not only did he graduate but Firefighter/EMT Hassler took home the Vernon M. Evans Memorial Award. Hassler was awarded this for being the student who best exemplified commitment, compassion, and professionalism that is consistant with the traditions of the brotherhood of firefighting. Congratulations!
Recent Alarms
Monday September, 1 2014 @ 17:51

Sunday August, 24 2014 @ 18:18

Thursday August, 21 2014 @ 07:31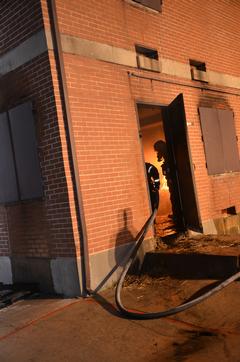 Make a donation to the Pennsville Fire & Rescue Co. #1 & help us to continue helping our community!
Donate Now